Carlos Santana annuncia l'uscita del nuovo album "Blessings and Miracles"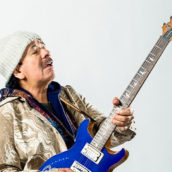 Carlos Santana annuncia l'uscita del suo nuovo album, atteso per il 15 ottobre. Il disco si intitolerà "Blessings and Miracles" e sarà anticipato dai singoli "Move", in collaborazione con Rob Thomas, e "She's Fire" con Diane Warren e G-Eazy.
Sul titolo dell'album Santana ha raccontato che: "Il titolo deriva dalla mia convinzione che siamo nati con poteri celesti che ci permettono di creare benedizioni e miracoli. Il mondo ti programma per non essere degno di quei doni, ma dobbiamo utilizzare la luce, lo spirito e l'anima: sono indistruttibili e immutabili. Questi sono i tre elementi principali di questo album".
Tra le collaborazioni del nuovo progetto musicale figurano artisti come Chris Stapleton, Steve Winwood, Chick Corea, Rick Rubin, Corey Glover, Ally Brooke, American Authors, Kirk Hammett e Narada Michael Walden. Inoltre saranno presenti anche i figli dell'artista, Salvador e Stella, rispettivamente alle tastiere e alle voci.
Ecco la tracklist:
Ghost of Future Pull/ New Light
Santana Celebration
Rumbalero (con Salvador Santana & Asdru Sierra)
Joy (con Chris Stapleton)
Move (con Rob Thomas, Zac Barnett & American Authors)
A Whiter Shade of Pale (con Steve Winwood)
Break (con Ally Brooke)
She's Fire (con Diane Warren, G-Eazy)
Peace Power (con Corey Glover)
America for Sale (con Kirk Hammett & Marc Osegueda)
Breathing Underwater (con Stella Santana, Avi Snow, MVCA)
Mother Yes
Song for Cindy
Angel Choir (con Gayle Moran Corea)/ All Together (con Chick Corea)
Ghost of Future Pull II