I Coldplay sul palco con Ed Sheeran per promuovere "Music Of The Spheres"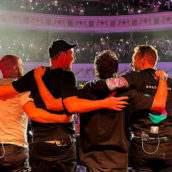 Ieri sera i Coldplay hanno presentato il nuovo album, "Music Of The Spheres" in uscita il 15 ottobre, sul palco dello Shepherd's Bush Empire di Londra. La band ha invitato sul palco Ed Sheeran, una vera sorpresa per tutti i presenti, e hanno cantato insieme "Fix You" dal disco "X&Y" (2005).
Dopo il primo duetto, i Coldplay ed Ed Sheeran si sono esibiti in "Shape Of You" (da "Divide" del 2017) e "Shivers", ultimo singolo che estratto da "Equals", atteso per il 29 ottobre.
Per Chris Martin e compagni è un periodo davvero intenso, data l'imminenza della pubblicazione del nuovo attesissimo album. Nel nuovo disco saranno presenti collaborazioni con BTS (in "My Universe") e con Selena Gomez in "Let Somebody Go".
Inoltre la band di Chris Martin ha annunciato un grande evento per presentare al pubblico il disco. Il nuovo progetto musicale verrà presentato con uno show molto particolare a Londra: "The Atmoshperes". L'evento, a cui sarà possibile partecipare il 15 e il 16 ottobre, sarà realizzato in collaborazione con Amazon Musica e prevede l'utilizzo della realtà aumentata: "All'interno dell'installazione i fan saranno trasportati su The Spheres, il sistema solare che ospita il nuovo album della band: ciascuna delle dodici canzoni è legata a un pianeta di quel sistema", recita l'annuncio ufficiale dei Coldplay.
Dopo l'anteprima al Principal Place di Londra, lo show si sposterà a New York, Tokyo e Berlino.