Madonna vorrebbe un tour insieme a Britney Spears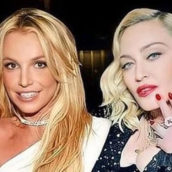 Madonna e Britney Spears in tour insieme? Un sogno per molti fan, che potrebbe realizzarsi! Nei giorni scorsi Madonna è stata ospite di una diretta Instagram, dove ha parlato dei suoi progetti futuri e del prossimo tour negli stadi. Un fan le ha chiesto della possibilità di condividere il palco con la collega e la regina del pop ha risposto con entusiasmo: "Diavolo, sì! Stadio, baby! Io e Britney, che ne dite di questo?".
Madonna ha concluso parlando delle possibilità di rivederle scambiarsi un bacio, come agli MTV Video Music Awards del 2003, dopo la loro esibizione: "Non so se lei ci starebbe, ma sarebbe davvero fantastico. Potremmo rievocare l'originale". Stesso anno in cui la Spears e Madonna hanno realizzato il loro primo singolo insieme, "Me Against the Music", canzone contenuta nell'album "In The Zone", uno degli album più amati della principessa del pop.
Madonna non perde occasione per farsi notare e queste sue affermazioni hanno fatto impazzire i fan, ma da Britney non si ha ancora nessuna risposta.