The Voice Olanda cancellato per accuse di molestie sessuali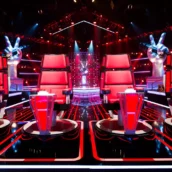 Secondo quanto ha riportato The Hollywood Reporter, The Voice of Holland, la versione originale del format canoro che ha spopolato a livello mondiale, è stato cancellato per accuse di molestie sessuali a parte dello staff di produzione dello show.
Jeroen Rietbergen, il direttore musicale dello show, si è dimesso sabato scorso con una dichiarazione rilasciata alla tv olandese. Il 50enne ha dichiarato di aver avuto "rapporti di natura sessuale" e di aver scambiato messaggi sessualmente espliciti con alcune donne coinvolte nel programma. Rietbergen ha dichiarato che non credeva di abusare della sua posizione e si è scusato con le donne coinvolte. A quanto pare le accuse si riferiscono a diversi anni fa e nel mentre il direttore musicale ha ricevuto un aiuto professionale.
E' stato accusato anche Ali B, rapper e allenatore di Voice of Holland, per un "comportamento sessualmente trasgressivo" in relazione allo spettacolo, come ha confermato il suo legale in una dichiarazione. Il rapper si dichiara totalmente innocente.
"Le accuse sono molto gravi e scioccanti e non erano note a RTL", ha affermato l'emittente olandese che trasmette The Voice nella sua dichiarazione. "Sulla base di queste accuse, il produttore di The Voice è stato contattato ed è stato raggiunto un accordo reciproco sul fatto che ITV avvierà immediatamente un'indagine diligente e indipendente. Le trasmissioni di The Voice of Holland saranno per il momento sospese fino a quando non sarà più chiaro".