5 Seconds Of Summer: E' uscito "Youngblood", il nuovo singolo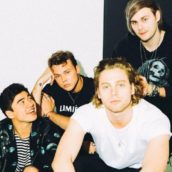 È disponibile per la rotazione radiofonica "YOUNGBLOOD", il secondo singolo che anticipa e dà il nome al nuovo album dei 5 SECONDS OF SUMMER, in uscita il prossimo 15 giugno.
Con oltre 75 milioni di stream, il singolo "YOUNGBLOOD" è entrato in classifica Spotify Top 20 Global e in altri 20 paesi e segue il successo di "Want You Back" (Top 25 in radio in Italia).
Definiti da Rolling Stone USA come "World's hottest band", i 5 SECONDS OF SUMMER sono l'unica band nella storia ad aver visto entrambi i loro album entrare al numero 1 della classifica Billboard 200.
Nel dettaglio, il disco di debutto del 2014 "5 SECONDS OF SUMMER" ha venduto da solo oltre 3 milioni di copie diventando il più grande album di debutto del 2014 degli Stati Uniti. Oltre agli USA, il disco ha debuttato in vetta alle classifiche in mezzo mondo tra cui Italia (dove è stato certificato ORO), UK Canada e Australia.
Il secondo disco del 2015 "SOUNDS GOOD FEELS GOOD" ha raggiunto la prima posizione della classifica non solo negli Stati Uniti ma anche in Gran Bretagna, Australia, Italia e in altri 8 Paesi.
Dopo 5 show da headliner in Italia nel 2015 completamente sold out, I 5SOS hanno fatto registrare l'ennesimo sold out anche lo scorso 29 marzo in occasione della data milanese del tour al Fabrique.