5 Seconds Of Summer – Lie To Me (feat. Julia Michaels)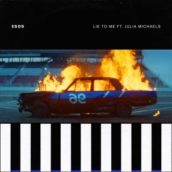 I 5 Seconds Of Summer (5SOS) pubblicano una nuova versione del brano "Lie To Me" in collaborazione con la cantautrice Julia Michaels, già disponibile su tutte le piattaforme digitali, con più di 17 milioni di stream, e in radio da venerdì 1° febbraio.

Youngblood, l'ultimo album della band uscito nel giugno 2018, ha raggiunto subito il vertice della classifica Billboard e ha continuato a vendere più di 1,5 milioni di copie. "Youngblood", la canzone che dà il titolo all'album, disco di Platino in Italia, è diventata una hit mondiale, raggiungendo 970 milioni di stream. Il brano è entrato subito nella TOP10 della classifica globale di Spotify ed è rimasto al primo posto della classifica ufficiale dei singoli australiani per 8 settimane consecutive.

Definito come "the biggest new rock act in the world" da Rolling Stone, l'album di debutto dei 5SOS, intitolato con lo stesso nome della band, ha venduto più di 4,2 milioni in tutto il mondo. I 5SOS, composti da Luke Hemmings (voce/chitarra), Michael Clifford (voce/chitarra), Calum Hood (voce/basso) e Ashton Irwin (voce/batteria), si è aggiudicato un American Music Award, un People's Choice Award, un iHeartRadio Music Award, otto MTV europee Music Awards, otto Teen Choice Awards, cinque ARIA Awards e due MTV Video Music Awards.

La band ha anche recentemente regalato ai fan una sorpresa, pubblicando "Meet You There Tour Live", un ricordo dell'ampio tour globale del 2018. L'album digitale, composto da 20 tracce, include numerose versioni live di canzoni tratte da Youngblood, tra cui il brano certificato Platino, "Want You Back", e "Valentine"; è contenuto anche "Jet Black Heart" e "She's Kinda Hot", tratti dal secondo album "Sounds Good Feels Good" e tanto altro.