5 Seconds Of Summer – Valentine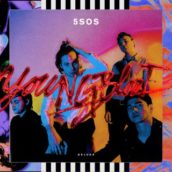 "Valentine" è il nuovo singolo dei 5 Seconds of Summer (5 SOS) in radio dal 2 novembre. Il brano è tratto dall'album di successo "Youngblood".
Con l'album "Youngblood", i 5SOS hanno allargato i loro parametri musicali pur mantenendo quei suoni originali che da sempre hanno caratterizzato la band.
Luke Hemmings spiega:
"Dovevamo crescere e "Youngblood" è stato il risultato. Sette anni come band possono sembrare lunghi, ma eravamo adolescenti quando abbiamo iniziato. Abbiamo dovuto guardarci in faccia e dire: "Ci fermeremo ora o lo faremo per sempre? Perché se continuiamo, allora dobbiamo andare più lontano di quanto abbiamo mai fatto prima".
Dopo i primi due album, i 5SOS si sono trasferiti a Los Angeles per trovare nuovi collaboratori, influenze e ispirazioni. Per le canzoni del nuovo album si sono ispirati ai suoni e al groove di artisti quali i Police, INXS, i The Church, i Gorillaz e i The Presets. Queste influenze sono evidenti nel nuovo singolo "Valentine" (prodotto da Mike Elizondo e co-scritto con Justin Tranter, una forza creativa chiave per i successi di Imagine Dragons, Fall Out Boy, Linkin Park, Justin Bieber e Gwen Stefani).
L'ultimo album della band, "Youngblood", è entrato al primo posto della Billboard 200 quando è uscito nel giugno 2018 e ha già venduto più di un milione di copie. "Youngblood" – la canzone che dà il titolo all'album – è diventata rapidamente una hit, con vendite che hanno già superato i 3,5 milioni di copie in tutto il mondo. Il singolo ha anche conquistato il primo posto nella playlist pop di Apple Music, "Today's Hits" e nella playlist di Spotify "Today's Top Hits". Il brano ha anche raggiunto la Top 10 globale di Spotify.
Il loro album di debutto "5SOS" ha venduto più di 4,1 milioni in tutto il mondo, con 3,6 milioni di album venduti e più di 6,5 milioni di singoli venduti solo negli Stati Uniti. "Sounds Good Feels Good Feels Good", pubblicato nel 2015, si è posizionato al numero 1 in 12 paesi, tra cui Stati Uniti, Regno Unito e Australia. "She's Kinda Hot", il primo singolo dell'album, è stato in cima alle classifiche di iTunes in 44 paesi. I 5SOS – Luke Hemmings (voce/chitarra), Michael Clifford (voce/chitarra), Calum Hood (voce/basso) e Ashton Irwin (voce/batteria) – hanno vinto un American Music Award, un People's Choice Award, un iHeartRadio Music Award, cinque MTV European Music Awards, due ARIA Awards e un MTV Video Music Award.
UK Headline Tour Dates
October
23rd – Glasgow – O2 Academy
24th – Glasgow – O2 Academy
26th – Manchester – O2 Apollo
27th – Manchester – O2 Apollo
29th – London – O2 Academy Brixton
30th – London – Eventim Apollo Hammersmith
November
1st – Birmingham – O2 Academy
2nd – Sheffield – O2 Academy