A due anni dall'ultimo lavoro, LP torna con il nuovo singolo "Golden"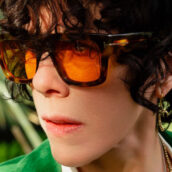 Una nuova era d'oro per LP, che torna a due anni dall'ultimo lavoro discografico, con il nuovo singolo "Golden", che da domani sarà disponibile negli store e in radio. Una canzone profonda e liberatoria, che invita ad apprezzare se stessi, come ricorda l'inciso: "We are golden / We're not broken / Again and again and again / We're sooo beautiful / We are golden…".
Il brano sarà accompagnato dal video che porta la firma di Stephen Schofield, collaboratore di lunga data dell'artista (LP, Taylor Swift, Joshua Bassett), che vede LP ballare ripercorrendo i suoi rapporti e ricordi passati, accanto a modelli dorati iper-surreali."Golden" anticipa il nuovo album "Love Lines", in uscita a settembre e queste le dirette parole di LP al riguardo: "Questa è la mia essenza e di quello che ho fatto nella mia vita, coltivare e cercare di capire e raffigurare", condivide LP. "Anche come essere umano, mi sento come se continuassi a diventare sempre più denso, concentrato. Sono più me stessa ogni anno che passa. Sono come quel caffè a cui devi aggiungere acqua perché è troppo forte".