Alan Walker – Darkside (feat. Au/Ra & Tomine Harket)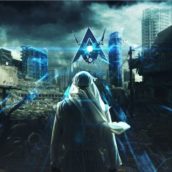 Il ritorno radiofonico del DJ multiplatino ALAN WALKER è segnato dal singolo "DARKSIDE", in rotazione da venerdì 7 settembre e già disponibile in digitale, che vede il featuring dell'artista nata a Ibizia AU/RA e del cantante norvegese TOMINE HARKET. Dalla sua uscita a oggi, il brano ha già totalizzato 78 milioni di visualizzazioni su YouTube e 38 milioni di stream su Spotify, dove ha conquistato immediatamente la Top 50 in ben 15 mercati.
In soli 3 anni Alan Walker è già uno degli artisti più "streammati" a livello globale con oltre 12 miliardi totali di stream audio e video nel mondo; solo con "All Falls Down", il primo capitolo della trilogia di video "World of Walker" in collaborazione con la giovane popstar americana Noah Cyrus e Digital Farm Animals, ha superato 500 milioni di stream e visualizzazioni.
Grazie alla sua incredibile fanbase asiatica, l'hitmaker norvegese è anche la prima firma di Liquid State, l'etichetta dance elettronica lanciata da Tencent Music Entertainment Group, nata dalla joint venture tra il colosso cinese Tencent e Sony Music Entertainment.
Il 2016 e il 2017 sono stati indubbiamente gli anni di svolta per Alan Walker: in questo periodo, infatti, l'artista ha pubblicato i suoi primi tre singoli "Faded" (8 x platino), "Sing Me To Sleep" (oro) e "Alone" (platino), diventate tutte delle hit internazionali nel 2016, seguite da "Tired" feat. Gavin James, "The Spectre" e "All Falls Down" nel 2017. Walker ha conquistato il vertice delle classifiche internazionali e con gli ultimi due singoli ufficiali ("Tired" e "Alone") ha raggiunto anche il #1 della US Dance Radio.
Quest'anno il Dj è stato protagonista di un lungo tour che proseguirà per tutto l'autunno.