Andrea Bocelli con i figli in un concerto natalizio alla Casa Bianca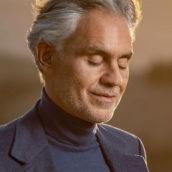 Un concerto natalizio davvero speciale per Andrea Bocelli e i figli Matteo e Virginia, che si esibiranno alla Casa Bianca. Il trio parteciperà allo storico speciale natalizio "In performance at the White Christmas: Spirit of the season", organizzato dalla PBS con la conduzione di Jennifer Garner, davanti a un pubblico d'eccezione tra cui il Presidente Joe Biden e la First Lady Jill Biden.
Lo speciale, registrato dall'11 al 14 dicembre nelle stanze addobbate della Casa Bianca, verrà presentato in anteprima il 21 dicembre alle 20 ET (quando in Italia saranno le 2 del mattino del 22 dicembre) sui canali PBS, poi verrà trasmesso tramite l'American Forces Network.
Si tratta di un appuntamento molto importante e storico per gli Stati Uniti e la Presidenza Americana. Un'occasione per condividere la migliore musica e gli spettacoli di danza con tutto il paese e augurare ai cittadini buone feste. Tanti gli ospiti che si esibiranno quest'anno, tra cui Norah Jones, Camila Cabello, Eric Church, Jonas Brothers, Pentatonix, Billy Porter, Northwell Health Nurse Choir, Voices of Service e "The President's Own" United States Marine Band.