Ariana Grande: A breve in rotazione radiofonica "No Tears Left to Cry", ascolta qui il nuovo singolo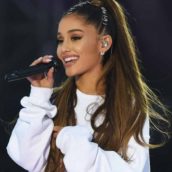 L'artista multiplatino, nominata ai GRAMMY Awards, superstar da record ARIANA GRANDE torna in radio con il nuovo singolo "NO TEARS LEFT TO CRY", pubblicato via Republic Records.
"NO TEARS LEFT TO CRY", prodotto da Max Martin e ILYA, co-scritto da Ariana, Max Martin, ILYA e Savan Kotecha, è il primo singolo che anticipa l'arrivo del prossimo album dell'artista.
Insieme al singolo, è disponibile il videoclip ufficiale, diretto dal regista premiato ai GRAMMY Awards Dave Meyers, visibile qui https://youtu.be/ffxKSjUwKdU, che in meno di 12 ore ha già superato 2 Milioni di visualizzazioni.