ARIANA GRANDE COME I BEATLES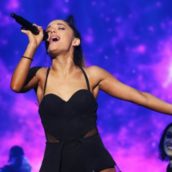 Nel 1964 i Beatles riuscirono a conquistare le prime tre posizioni della prestigiosa classifica Billboard Top 100 con i brani "Can't Buy Me Love", "Twist and Shout" e "Do You Want To Know a Secret": da allora, nessun altro artista è mai riuscito a eguagliare il successo dei Fab Four o a battere il loro record, almeno fino ad ora.
Oggi, infatti, c'è qualcuno che è riuscito a scalare la famosa classifica proprio come la storica band: si tratta di Ariana Grande, il cui singolo "7 rings" si trova al primo posto ormai da ben 4 settimane, adesso seguito da altre due sue canzoni, "Break Up With Your Girlfriend", "I'm Bored" alla seconda posizione, e "Thank U, Next" alla terza.
I mitici Beatles sono dunque stati raggiunti dalla giovane popstar, anche se bisogna considerare che dal 1964 a oggi i criteri che regolano la celebre classifica sono un po' cambiati: oggi, infatti, la Billboard Hot 100, principale classifica musicale statunitense, oltre che sulle vendite dei dischi, si basa anche sulle trasmissioni radiofoniche, sullo streaming in rete e sulle visualizzazioni YouTube, dunque su alcuni fattori che ai tempi dei Fab Four ovviamente non esistevano.