Ariana Grande sarà coach nella nuova edizione di The Voice USA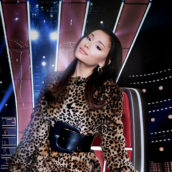 Ariana Grande sorprende tutti annunciando la sua partecipazione a The Voice USA. La popstar andrà ad affiancare Kelly Clarkson, John Legend e Blake Shelton come coach della ventunesima edizione del talent americano, in onda sulla NBC, show seguitissimo negli Stati Uniti.
Ariana prenderà il posto di Nick Jonas dei Jonas Brothers, che aveva partecipato nelle ultime due edizioni dello show come coach. Un bel modo per la pop star di festeggiare l'uscita della Deluxe Edition di "Positions", album che include quattro nuovi brani, tra cui il remix di "34+35" feat. Doja Cat e Megan Thee Stallion.
"Sorpresa!!! Sono oltremodo elettrizzata, onorata, entusiasta di unirmi a Kelly Clarkson, John Legend e Blake Shelton per la prossima stagione ~ stagione 21 di The Voice! Nick Jonas ci mancherai", ha scritto l'artista sui propri canali social. Per Ariana Grande si tratta della sua prima volta in tv come giudice e in questo modo potremo scoprire un nuovo lato della star.