"Back To The Future Live" di Elisa, in arrivo il terzo volume a novembre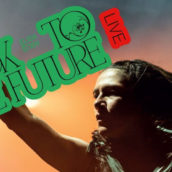 E' in arrivo il terzo e ultimo volume di "Back To The Future Live" di Elisa, cofanetto che racchiude il meglio dell'ultimo tour e qualche inedito. Il progetto discografico è nato con la prima uscita il 16 settembre, continuato poi con il secondo volume a ottobre e ora si conclude con l'uscita del terzo volume il 25 novembre.
"Con novembre arriva il terzo e ultimo volume: Back To The Future Live – Part III.
Sarà disponibile dal 25 novembre, in edizione fisica in copie limitate ed è possibile preordinarlo già da ora! La tracklist si compone di altre 13 canzoni live e, in conclusione, ci sarà l'inedito "Tienimi con te". È un brano a cui sono molto legata e che non vedo l'ora di condividere con tutti voi", ha scritto Elisa sui social.
La tracklist è composta da 14 tracce, che includono il nuovo singolo "Tienimi Con Te", realizzato con Marracash, Franco126, Venerus e Mace. Il disco è già disponibile in pre-order e pre-save.
Ecco la tracklist completa:
01 I Feel It In The Earth
02 Drink To Me
03 Neon – Le Ali (con Marracash)
04 Fire
05 Broken
06 Chi Lo Sa (con Franco126)
07 Quando Arriva La Notte (con Venerus e Mace)
08 Stay
09 No Hero
10 Fu**in' Believers
11 Together
12 Cure Me
13 A Modo Tuo
14 Tienimi Con Te (inedito)
Dopo il successo del tour estivo, Elisa tornerà nei teatri per portare le sue canzoni in una nuova versione acustica, di piano, archi e chitarra, con "An Intimate Night".
Ecco tutte le date del tour:
01 dicembre 2022 TRIESTE – Teatro Rossetti
05 dicembre 2022 BOLOGNA – Europauditorium
08 dicembre 2022 MILANO – Teatro degli Arcimboldi
16 dicembre 2022 TORINO – Auditorium Gianni Agnelli del Lingotto
21 dicembre 2022 FIRENZE – Teatro Verdi
28 dicembre 2022 ROMA – Auditorium Parco della Musica
03 gennaio 2023 CATANIA – Teatro Metropolitan