Beyoncé, concerto privato a Dubai con cachet da 24 milioni di euro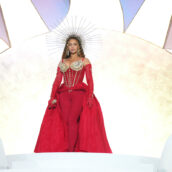 Negli ultimi anni vedere Beyoncè esibirsi su un palco è stato qualcosa di sempre più raro.
L'ultima volta che ha tenuto un concerto, pubblicamente, è stato infatti nel 2018 pochi giorni dopo la conclusione del suo On the Run II Tour.
In questi giorni però la cantante avrebbe preso parte ad un evento privato, a Dubai, per una cifra… davvero difficile da rifiutare.
Come riporta IoDonna, "Beyoncé ha interrotto questo suo lungo momento di pausa dai concerti con uno show sul palco del teatro dell'hotel di lusso Atlantis The Royal di Dubai. […] Lo ha fatto accettando una proposta decisamente allettante dell'hotel con un cachet impressionante da 24 milioni di dollari. Quindi, circa 330 mila euro al minuto".
Lo scorso luglio Beyoncè ha pubblicato il suo settimo album in studio, dal titolo "Renaissance", molto apprezzato da pubblico e critica.