BTS ed Ed Sheeran insieme per il nuovo singolo "Permission to dance"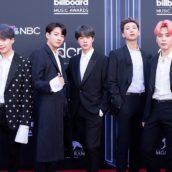 Se ne parlava da circa un mese e ora è arrivata la conferma: i BTS pubblicheranno un CD singolo con l'ultimo singolo "Butter" e una nuova canzone scritta con Ed Sheeran. Non è la prima volta che la band coreana collabora con il cantautore britannico, i due hanno già unito le forze per "Make it right", singolo contenuto in "Map of the soul: persona" del 2019.
La nuova collaborazione si intitola "Permission to dance" ed è stata scritta da Ed Sheeran, Johnny McDaid, Steve Mac e Jenna Andrews. Questi ultimi due hanno curato anche la produzione del pezzo con Stephen Kirk.
Il CD uscirà il prossimo 9 luglio ed è stato annunciato con un post sui social dell'etichetta discografica dei re del k-pop, la Big Hit Music, che ha condiviso su Twitter la copertina e la tracklist della prossima pubblicazione. Nel disco saranno presenti anche le versioni strumentali di "Butter" e "Permission to dance".
Con l'ultimo singolo la band coreana ha rubato il record di presenza nelle chart di tutto il mondo di PSY, risalente al 2013. Infatti "Butter" è stato il terzo singolo dei BTS a entrare nella Top Ten della classifica di vendita britannica.