Cardi B è la prima donna rapper ad avere un singolo certificato diamante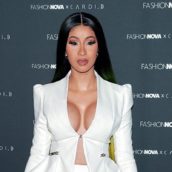 Cardi B è la prima donna rapper a ricevere la certificazione diamante per un singolo: "Bodak Yellow", uscito nel 2017, ha venduto oltre dieci milioni di unità negli Stati Uniti. Si tratta anche del primo singolo estratto dal suo album di debutto, "Invasion of Privacy", pubblicato ad aprile 2018.
A decidere questa importantissima certificazione è stata la Recording Industry Association of America, che ha voluto premiare l'artista 28enne con questo riconoscimento. Prima di lei solo Lauryn Hill era riuscita nell'impresa, con l'album "The Miseducation of Lauryn Hill".
Cardy B ha voluto ringraziare tutti i suoi fan dopo aver saputo del riconoscimento con un video sui suoi canali social: "Voglio solo dire grazie mille, ragazzi, perché senza di voi non sarebbe successo", e racconta che ora sta vivendo un momento bellissimo. Infatti molti suoi singoli stanno scalando le classifiche, anche "WAP", ultimo brano realizzato con Megan Thee Stallion, ha già ottenuto cinque dischi di platino.