'Cenere' di Lazza è il singolo più venduto dall'inizio del 2023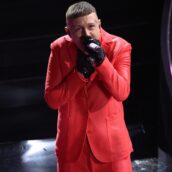 Il podio dell'ultimo Sanremo si conferma vincente anche in fatto di vendite, ma con una differenza: Cenere è al primo post. Il successo di Lazza è infatti il brano più venduto nei primi sei mesi del 2023. Il vincitore del Festival, ovvero Marco Mengoni con Due Vite è però medaglia d'argento. Come all'Ariston Supereroi di Mr.Rain è in terza posizione. Tananai con Tango, quinto nella città dei fiori, nelle vendite è quarto. In top ten c'è anche un altro pezzo sanremese: Madame con Il bene nel male. Ma ecco la top ten pubblicata dalla FIMI.
1) Cenere – Lazza
2) Due vite – Marco Mengoni
3) Supereroi – Mr.Rain
4) Tango – Tananai
5) Quevedo: bzrp music sessions, vol. 52 – Bizarrap & Quevedo
6) Gelosa – Finesse feat. Shiva, Sfera Ebbasta & Guèepic
7) Il bene nel male – Madame
8) Flowers – Miley Cyrus
9) Cookies N' Cream – Guè, Anna & Sfera Ebbasta
10) Origami all'Alba – Matteo Paolillo
Tra i dischi più venduti c'è Sirio di Lazza, Materia (Prisma) di Marco Mengoni, Alba di Ultimo, Rave, Eclissi di Tananai, Fake news dei Pinguini Tatti Nucleari e Rush! dei Måneskin. Il vinile più venduto in questa prima parte dell'anno è invece The Dark Side Of The Moon dei mitici Pink Floyd.