Coldplay e Selena Gomez: è online il video ufficiale di "Let Somebody Go"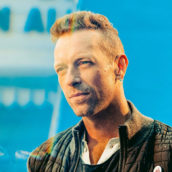 A cinque mesi dalla pubblicazione di "Let somebody go", arriva il video ufficiale della collaborazione tra i Coldplay e Selena Gomez.
Diretto da Dave Meyers e con la partecipazione di Chris Martin e Selena Gomez, il video el singolo estratto dall'album "Music of the Spheres" del 2021, è un racconto in bianco e nero che narra che se l'amore tra due persone è stato vero, bisogna allora anche imparare a lasciarsi andare. All'inizio della canzone, Gomez e Martin si abbracciano ai lati di un marciapiede immerso nella metropoli e nella vita di ogni giorno. Ed è proprio da lì che parte un viaggio fatto di malinconia, amore e sogni.
Non è la prima volta che Dave Meyers collabora con i Coldplay, ha già firmato i video di "Higher Power" e "My Universe", con i BTS.
Di recente, durante un'intervista, Chris Martin si sarebbe fatto sfuggire che, tra i progetti della band, c'è anche una colonna sonora di un musical: "Penso che ci piacerebbe davvero fare un musical", scherzando sull'ipotetico titolo "East Side Story", in riferimento al celebre musical West Side Story, che di recente è tornato nelle sale cinematografiche con la regia di Steven Spielberg.
Chris ha poi aggiunto: "Siamo così fortunati che possiamo semplicemente seguire ciò che sembra giusto. Questo è ciò che abbiamo deciso di fare. Ecco perché la nostra musica cambia un po'".