Coldplay e Selena Gomez insieme nel singolo "Let Somebody Go"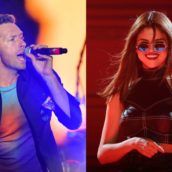 I Coldplay e Selena Gomez duettano nel nuovo singolo, "Let Somebody Go", tratto dal nuovo album della band inglese "Music Of The Spheres", in uscita il 15 ottobre. La notizia è stata rilasciata al The Sun e poi rilanciata sui social dei Coldplay.
Al tabloid inglese è stato rivelato che Chris Martin è un grande fan di Selena Gomez e questa collaborazione ha fatto avverare uno dei sogni del cantante. Inoltre sembra che la band britannica sia pronta a presentare il nuovo disco con un evento davvero speciale, ma di cui non è ancora trapelato nulla.
La band inglese ha già dato un assaggio di quello che sarà il nuovo album, dal primo singolo "Higher Power", passando per i ritmi rock di "Coloratura" e con l'ultimo singolo pubblicato, "My Universe", cantato in inglese e in coreano in cui i Coldplay collaborano con i BTS.