Coldplay: "Higher power" uscirà in anteprima su TikTok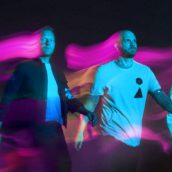 "Higher power" potrà essere ascoltato in anteprima su TikTok, ma solo per 24 ore: tutti gli utenti del celebre social network potranno realizzare clip utilizzando qualche secondo della canzone. Questa è la nuova trovata promozionale dei Coldplay per pubblicizzare il nuovo singolo in uscita il 7 maggio.
Inoltre, Chris Martin e soci suoneranno il nuovo singolo sul palco di American Idol il 9 maggio, puntata che sarà tutta dedicata a loro, che vedrà il frontman della band in veste di giudice speciale.
Secondo alcune indiscrezioni, non sarà l'unica presenza in tv, ma potrebbero presenziare anche ai Brit Awards 2021, i premi musicali più ambiti nel Regno Unito, che si terranno l'11 maggio. Secondo quanto riportano i giornali inglesi, la band dovrebbe aprire la cerimonia con una speciale performance registrata su un barcone sul Tamigi, presentando il nuovo album "Music of the spheres".