Coldplay in concerto su TikTok per il Red Nose Day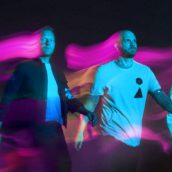 Dopo la promozione di "Higher Power" su TikTok, i Coldplay tornano sul celebre social per un evento a scopo benefico. Questa volta la band si esibirà in un concerto live streaming a favore del Red Nose Day (27 maggio 2021), dedicata alla raccolta fondi annuale per le innocenti vittime della povertà infantile.
I fan potranno vedere il concerto lunedì 24 maggio, a partire dalle 15:00 (ora italiana), sul TikTok, sarà necessario disporre di un account per il collegamento alla piattaforma social. Durante la performance, Chris Martin e soci si esibiranno live in quattro canzoni, tra nuovi singoli e storiche hit dalla stessa location sul Tamigi utilizzata per presentare il nuovo singolo ai Brit Awards 2021.
"Saremmo davvero molto contenti che vi uniate a noi per il nostro primo concerto in assoluto su TikTok, il prossimo lunedì 24 maggio, per il Red Nose Day" ha raccontato Chris Martin in un video messaggio su YouTube.
"Il Red Nose Day porta avanti in tutto il mondo iniziative straordinarie per proteggere i bambini, prendersi cura della loro salute e offrire loro educazione e crescita personale. Siamo davvero contenti di poter sostenere la campagna con questa performance" ha aggiunto. Questa non è la prima esibizione a favore del Red Nose Day, già nel 2015 avevano dato vita, con il cast della serie de "Il trono di spade", a una divertente esibizione sulle note di "Game of Thrones: The Musical": una parodia di 10 minuti che è diventata virale sul web.