Danny Avila & The Vamps: Ascolta "Too Good to Be True", nuovo singolo feat. Machine Gun Kelly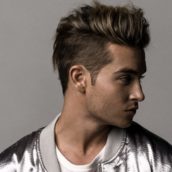 Danny Avila è un artista spagnolo completo: DJ , musicista, produttore classe 1995, Top 30 della prestigiosa classifica di DJ Mag, che da qualche anno sta collaborando cono i più importanti artisti internazionali: da Tiesto a Deniz Koyu a Fedde Le Grand per citarne alcuni.
Dopo varie pubblicazioni di successo su Spinnin' e Musical Freedomel 2013 firma un contratto di esclusiva con la MGM di Las Vegas e si ritrova a suonare come resident all'Hakkasan con Steve Aoki, Laidback Luke, DeadMau5, Tommy Trash, Calvin Harris…da pochi giorni è disponibile la sua nuova produzione intitolata "Too Good to Be True".
La nuova canzone vede al featuring il gruppo pop rock britannico The Vamps e il rapper statunitense Machine Gun Kelly, che insieme al produttore, sono anche autori del testo.
Too Good to Be True è un brano che parla dell' innamoramento di un ragazzo nei confronti di una ragazza, che ai suoi occhi è davvero perfetta; tutto ciò che lei fa è bello e giusto, e lui la paragona ad un angelo sceso in terra.
Su Spotify il brano ha già raggiunto quota 2 milioni di streams.