DAVID BOWIE: ARRIVA IL DISCO DEL LIVE A GLASTONBURY 2000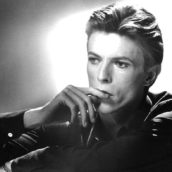 Il 25 giugno del 2000 David Bowie si è esibito al festival di Glastonbury e quel concerto è passato alla storia: soprattutto dopo la morte dell'artista, avvenuta a gennaio del 2016, sono state realizzate diverse pubblicazioni non ufficiali di questa grandiosa esibizione.
Ma adesso i fan del Duca Bianco potranno finalmente avere il disco ufficiale del concerto e rivivere così le emozioni di quella serata: è prevista, infatti, per il 30 novembre l'uscita della registrazione prodotta dalla Parlophone, etichetta che negli ultimi anni ha curato diversi cofanetti ufficiali dedicati al cantante britannico, tra i quali il "Live Nassau Coliseum '76" e "Loving the Alien 1983-1988", quest'ultimo ancora in fase di pubblicazione.
Questo disco live sarà intitolato Bowie – Glastonbury 2000 e verrà prodotto in diversi formati, ossia doppio cd, doppio cd e dvd, triplo vinile e digitale. In quell'occasione Bowie ha eseguito 21 canzoni, inclusi i suoi cavalli di battaglia.
Ecco la scaletta completa: Introduction (Greensleeves), Wild Is The Wind, China Girl, Changes, Stay, Life On Mars?, Absolute Beginners, Ashes To Ashes, Rebel Rebel, Little Wonder, Golden Years, Fame, All The Young Dudes, The Man Who Sold The World, Station To Station, Starman, Hallo Spaceboy, Under Pressure, Ziggy Stardust, Heroes, Let's Dance e I'm Afraid Of Americans.
A Glastonbury, Bowie ha suonato insieme a una band d'eccezione, composta dai chitarristiEarl Slick e Mark Plati, dal bassista Gail Ann Dorsey, dai percussionisti Sterling Campbell e Holly Palmer, e dai tastieristi Mike Garson e Emm Gryner.
L'artwork di questo disco è stato affidato al celebre graphic designer Jonathan Barnbrook che in passato ha già lavorato per il Duca Bianco, curando la parte grafica di alcuni album, come Heathen, The Next Day e Blackstar.