E' morta Marie Fredriksson, la cantante dei Roxette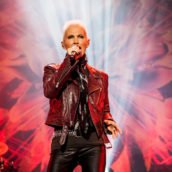 Lutto nel mondo della musica: è morta ieri mattina a soli 61 anni Marie Fredriksson, la voce del duo svedese dei Roxette.
Marie combatteva da oltre 17 anni con un tumore al cervello: fu la stessa cantante a comunicarlo ai fan nel 2002, quando i medici le diedero un anno di vita.
L'artista lascia il marito, Mikael Bolyos, e due figli.
La notizia della sua scomparsa è stata confermata dal suo manager: "È con grande tristezza che dobbiamo annunciare che uno dei nostri artisti più grandi e più amati è scomparso. Marie Fredriksson è morta la mattina del 9 dicembre a seguito della sua malattia". La cantante sarà sepolta in forma privata alla presenza dei soli familiari.
A renderle omaggio sui social l'altro componente del duo, Per Gessle, attraverso un post che si conclude con la frase: "Le cose non saranno mai più le stesse".
I Roxette hanno venduto oltre 75 milioni di dischi, piazzando 19 brani ai vertici delle classifiche. Alcuni tra i successi più noti: "It Must Have Been Love", da "Listen To Your Heart" e "The Look".