È morto Ennio Morricone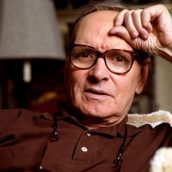 È morto Ennio Morricone, uno dei più noti compositori di colonne sonore di film del Novecento. Aveva 91 anni. Qualche giorno fa Morricone era caduto in casa e si era rotto un femore. È morto durante il ricovero al Campus Biomedico di Roma per le conseguenze di quella caduta.
Morricone era nato a Roma il 10 novembre del 1928 e il suo nome nella storia del cinema è legato in particolare alla collaborazione con il regista Sergio Leone, per il quale compose le colonne sonore dei film "spaghetti-western" Per un pugno di dollari, Per qualche dollaro in più, Il buono, il brutto, il cattivo, C'era una volta il West, Giù la testa, e poi di C'era una volta in America, l'ultimo film della carriera di Leone.
Ma Morricone fece anche moltissimo altro e nella sua lunga carriera realizzò decine di colonne sonore, collaborando con registi italiani e stranieri: scrisse le musiche per I giorni del cielo di Terrence Malick, Mission di Roland Joffé e The Untouchables – Gli intoccabili, di Brian De Palma. Vinse un premio Oscar alla carriera nel 2007 e un Oscar per la miglior colonna sonora nel 2016 per The Hateful Eight, di Quentin Tarantino, con cui aveva un rapporto di stima e amicizia.