ED SHEERAN: AD APRILE APRE IL SUO PUB A LONDRA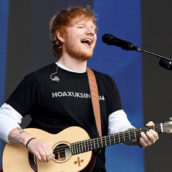 Ed Sheeran ha acquistato l'ex ristorante spagnolo Galicia situato nel quartiere di Portobello road a Londra.
A riportare la notizia è stato il The Sun che ha affermato che il cantante ha speso oltre un milione di sterline per accaparrarsi le mura.
L'idea è quella di ristrutturare i locali e trasformali in un pub-ristorante con musica dal vivo. Sempre secondo il periodico britannico, il nome del locale sarà "Castle on the hill"come una sua famosissima canzone.
I lavori di ristrutturazione sono già iniziati e pare che il ristorante sarà pronto già il prossimo aprile.