Ed Sheeran e Taylor Switft insieme in "The Joker And The Queen"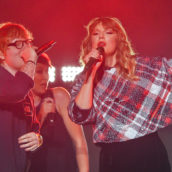 Dopo le anteprime dei giorni scorsi, arriva l'annuncio dell'uscita del nuovo singolo di Ed Sheeran: "The Joker And The Queen". Si tratta di un brano contenuto nell'ultimo album, "Equals", che l'artista ha eseguito ieri sera, 8 febbraio, sul palco dei Brit Awards, dove ha vinto il premio come "Songwriter Of The Year".
Il singolo uscirà venerdì 11 febbraio e avrà una sorpresa: questa volta l'artista britannico non sarà da solo, ma accompagnato da Taylor Swift. Non è la prima volta che i due artisti collaborano, i due hanno già lavorato insieme per "Everything Has Changed", dell'album "Red (Taylor's Version)" del 2021 e anche nel singolo "End Game".
Tra i due artisti c'è una sincera amicizia, l'anno scorso Ed Sheeran ha raccontato di quando aveva invitato Taylor al suo pub, il The Station, per bere qualcosa insieme e, incredibilmente, nessuno dei presenti si era accorto della presenza dell'artista americana.
La nuova versione di "The Joker And The Queen" è già disponibile in pre-order e pre-save.