Emeli Sandé: E' uscito "Breathing Underwater", il nuovo singolo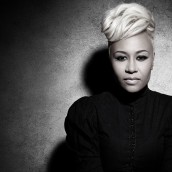 "Breathing Underwater" è l nuovo singolo di EMELI SANDÉ estratto dall'ultimo album "LONG LIVE THE ANGELS".
L'album è un affascinante viaggio tra i trionfi e le tragedie avvenute negli ultimi 4 anni nella vita di Emeli Sandé. Attraverso un linguaggio entusiastico e coraggioso, la Sandé riesce a trasmettere la sua voglia di libertà e il suo viaggio alla scoperta di se stessa.
È successo davvero di tutto a Emeli Sandé in questi ultimi 4 anni dopo lo straordinario successo del suo disco dei record, acclamato dalla critica "Our Version Of Events".
In Gran Bretagna il disco è stato il più venduto del 2012 e il secondo album più venduto del 2013, è stato anche certificato per 7 volte Platino ed ha passato 7 settimane al 1mo posto della classifica album, superando il record dei Beatles di 63 settimane consecutive in Top 10.