"Falene": è in arrivo il nuovo singolo di Michele Bravi con Sophie and The Giants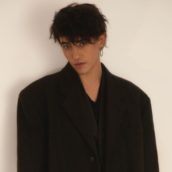 Dopo il successo di "La geografia del buio", Michele Bravi torna con una grande sorpresa! Il 18 giugno uscirà il suo nuovo singolo "Falene" con la collaborazione di Sophie and The Giants, una hit che ci catturerà con il suo ritmo sulla scia di "Nero Bali".
Michele torna con una hit con la band britannica che ha conquistato l'Italia grazie a hit come "Hypnotized" di Purple Disco Machine, la canzone internazionale più ascoltata nel nostro Paese nel 2020, e "Right Now", uno dei brani più suonati quest'anno. Sophie and The Giants sono una delle band più apprezzate in Europa per le loro sonorità. Sophie Scott, con Antonia Pooles (basso), Toby Holmes (chitarra) e Chris Hill (batteria) hanno formato la band nel 2015 e hanno ottenuto il successo nel nostro Paese con "Hypnotized".
Per ora l'artista perugino non ha lasciato altri indizi sul nuovo singolo, ha solamente pubblicato la cover sui propri canali social scatenando la curiosità di tutti i fan e dei colleghi.