Fdvm – Till the Sun Comes Up (feat. Jack and the Weatherman)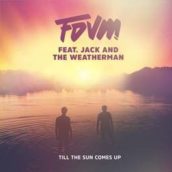 FDVM è un duo di produttori francesi, che vive tra Lille e New York. Come successe per Ofenbach, i due amici Florien Denecker e Victorien Mulliez sono oggi considerati come la prossima generazione della deep house francese.
Il loro primo singolo "Make It Right" ha raggiunto 15 milioni di stream. Dopo questo successo, FDVM ha pubblicato "Love Again",che ha avuto un forte supporto dalle radio francesi e ha confermato le potenzialità del giovane duo. "Love Again" ora registra oltre 6 milioni di stream in tutto il mondo..
FDVM gode di un'ottima visibilità internazionale che gli ha permesso di suonare sui palcoscenici dei più grandi festival mondiali come Coachella, Burning Man o Mysteryland insieme ad artisti come Carl Cox , Bakermat, Claptone, Lost Frequencies e tanti altri.
Con impressionanti numeri in streaming (circa 65 milioni solo su Spotify), FDVM pubblica il nuovo singolo intitolato "Till The Sun Comes Up", accompagnato dal gruppo Jack & The Weatherman.