Gary Barlow: "La reunion dei Take That ci sarà"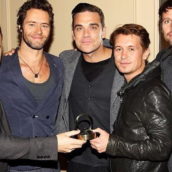 Secondo Gary Barlow, la reunion dei Take That si farà. Ne è talmente sicuro che l'ha affermato durante un'intervista al tabloid britannico Daily Mirror, senza però anticipare modi o tempi per rivedere insieme la band, con tutti i cinque componenti originari. Per il giudice di X Factor, i Take That sono un "porto sicuro" dove ritornare dopo qualche progetto da solista.
Dall'entusiasmo dimostrato da Gary Barlow, l'idea della reunion si sta facendo concreta: "Una delle grandi emozioni di essere parte di una band è che non sai mai cosa succederà, canzone dopo canzone. Il gruppo è un ambiente meraviglioso, un rifugio sicuro. E' un posto dove tornare quando ti sei esibito da solo e senti che è tempo di tornare a casa", ha rivelato l'artista. Non ci resta che attendere per vedere se Barlow ha detto la verità, anche se forse dovremo aspettare un attenuarsi della pandemia, che ora impedisce gli spettacoli i dal vivo.
I Take That sono nati nel 1990, e attualmente è composta da Mark Owen, Gary Barlow e Howard Donald. Nel 1995 Robbie Williams lasciò la formazione per la carriera da solista e i quattro membri continuarono con il tour mondiale e pubblicarono un singolo finale, "How Deep Is Your Love", prima di sciogliersi nel 1996. Tutti i membri avevano preferito dedicarsi a carriere da solisti e alla propria vita privata. Nel 2005, dopo aver girato il documentario "Take That: For The Record", i Take That si sono riformati senza Robbie, che è poi tornato nel 2010 per l'album "Progress". Poi, di nuovo la divisione e solo sporadiche reunio, come quella del 2018 alla finale britannica di X Factor.