Gli U2 pubblicano l'anteprima del nuovo singolo "Your Song Saved My Life" su TikTok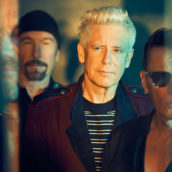 Gli U2 tornano con un nuovo singolo e per presentarlo hanno scelto TikTok. Bono Vox e compagni hanno scelto il celebre social network per l'anteprima di "Your Song Saved My Life" che si terrà questa settimana. Il singolo non anticipa un nuovo album, ma farà parte della colonna sonora del film d'animazione "Sing 2", dove Bono offre anche la voce al personaggio di Clay Calloway (in Italia doppiato da Zucchero). Insieme al nuovo singolo, sul social network arriveranno tutti i brani della band che rimarranno a disposizione degli utenti per i propri video.
Per poter ascoltare "Your Song Saved My Life" al cinema si dovrà attendere il 23 dicembre, oltre a Bono Vox, hanno prestato la loro voce al film anche Halsey e Pharrell Williams.
Bono e The Edge hanno scalato quest'estate le classifiche insieme a Martin Garrix, con "We are the people", colonna sonora degli Europei di calcio.