Gwen Stefani – Secret Santa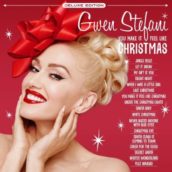 GWEN STEFANI torna in radio venerdì 30 novembre con il singolo inedito "SECRET SANTA". Il singolo è estratto dal repack dell'album "YOU MAKE IT FEEL LIKE CHRISTMAS" che lo scorso anno ha raggiunto la prima posizione della Billboard's Holiday Album Sales Chart.
Questa nuova versione di "YOU MAKE IT FEEL LIKE CHRISTMAS" include cinque nuovi brani, di cui due inediti scritti da GWEN STEFANI ("SECRET SANTA" e "Cheer for the Elves") e tre cover di brani tradizionali ("Santa Claus is Coming to Town", "Winter Wonderland" e "Feliz Navidad ft. Mon Laferte").