I Green Day annunciano l'album "BBC Sessions"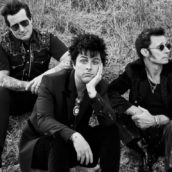 I Green Day hanno annunciato il nuovo album, "BBC Sessions", che sarà disponibile dal 10 dicembre in tutti i negozi, nelle piattaforme di streaming e negli store digitali. Per presentare a tutti il nuovo progetto, la band presenterà una canzone a settimana in uno speciale conto alla rovescia fino all'uscita del disco.
Il primo brano è "2000 Light Years Away", la traccia numero 4 del nuovo album che raccoglie le registrazioni tra il 1994 al 2001. La canzone è stata registrata nel 1994 ed è estratta dal disco "Kerplunk" del 1991.
Sul nuovo progetto musicale, Mike Dirnt, bassista della band, ha dichiarato: "Da anni non vedevamo l'ora di pubblicare questo album. Tutti i nostri artisti preferiti le hanno registrate. Sapevamo che prima o poi le avremmo pubblicate e sarebbero state qualcosa di speciale".
Il nuovo album conterrà sedici registrazioni realizzate tra il 1994 e il 2001 per l'Evening Show di Steve Lamacq, con esibizioni live dagli studi della BBC di Maida Vale. Il nuovo progetto musicale sarà disponibile in diversi formati: in vinile colorato rosa e turchese in tiratura limitata a 10000 copie, edizione standard e in formato digitale.
Ecco la tracklist:
She
When I Come Around
Basket Case
2000 Light Years Away
Geek Stink Breath
Brain Stew/Jaded
Walking Contraddiction
Stuck With Me
Hitchin' A Ride
Nice Guys Finish Last
Prosthetic Head
Redundant
Castaway
Church On Sunday
Minority
Waiting
"BBC Sessions" arriva a un anno dalla pubblicazione di "Father To All Mother*uckers", uscito nel 2020. Si tratta del tredicesimo album dei Green Day che sarà presentato nel tour che Billie Joe Armstrong, Mike Dirnt e Tré Cool porteranno in giro per il mondo il prossimo anno. In Italia i Green Day sono attesi con due concerti: uno per il Milano Summer Festival all'Ippodromo SNAI San Siro il 15 giugno 2022 e l'altro al Firenze Rocks alla Visarno Arena il 16 giugno 2022. Entrambi i live saranno aperti dai Weezer.