I Kiss rimandano altre date del tour: anche Gene Simmons ha il Covid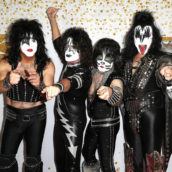 Dopo Paul Stanley, anche Gene Simmons si è ammalato di Covid-19 e la band è stata costretta a posticipare alcuni concerti. Secondo quanto hanno riferito i Kiss, il cantante ha sintomi lievi e il resto della band e dello staff rimarrà in isolamento per i prossimi 10 giorni. Se tutto andrà bene, il ritorno sulle scene è previsto per il 9 settembre al FivePoint Amphiteatre di Irvine, California.
I Kiss avevano ripreso il tour d'addio, "End of the Road", alle scene il 18 agosto, dopo più di un anno di pausa forzata a causa della pandemia, interrotta solo dal concerto evento di capodanno a Dubai. Purtroppo, dopo soli 4 concerti la band è stata costretta a fermarsi per la positività di Stanley. Tempo fa avevano affermato che tutta la band e lo staff si era sottoposto al vaccino, infatti il chitarrista si è ripreso in pochissimo tempo.