I Maneskin incantano Las Vegas prima del concerto dei Rolling Stones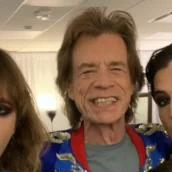 La serata del 6 novembre 2021 rimarrà per sempre nel cuore dei Maneskin come "Il miglior ricordo di tutti i tempi". La band romana ha aperto il concerto dei Rolling Stones a Las Vegas, all'Allegiant Stadium, incantando il pubblico in attesa di Mick Jagger e soci.
"Hello Las Vegas! È un onore essere qui ed avere la possibilità di suonare sul palco della band più grande di sempre", così Damiano si è presentato sul palco, prima di intonare "In nome del Padre" e "Zitti e Buoni", brano con cui hanno vinto l'ultima edizione del Festival di Sanremo e dell'Eurovision Song Contest. Lo show è andato avanti con una decina di pezzi tra cui "Beggin'" e "Mammamia". Damiano e soci hanno omaggiato anche Iggy Pop esibendosi in una cover di "I Wanna Be Your Dog" e hanno chiuso lo spettacolo con la loro canzone preferita: "I Wanna Be Your Slave".
Sui social i fan si sono scatenati nei commenti al post della band romana, che ha pubblicato qualche foto della serata. Anche Mick Jagger, il cantante della band britannica, non ha dimenticato di ricordarli con un "grazie ragazzi".