I Maneskin pubblicano il video di "Honey (are u coming?)"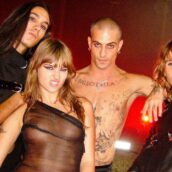 A pochi giorni dall'uscita del nuovo singolo i Maneskin hanno pubblicato il video ufficiale di "Honey (are u coming?)". La band romana ha scelto proprio la sua città, Roma, per girare il videoclip al Gazometro tra luci e laser. Location già scelta per la diretta sui social con cui Damiano, Victoria, Thomas ed Ethan hanno presentato il loro ultimo brano.
La band ha dato il via da pochi giorni al "Rush! World Tour", partito il 3 settembre all'EXPO Plaza di Hannover in Germania.
Oltre alla tournée, nei prossimi giorni i Maneskin saranno tra i protagonisti degli MTV VMA's 2023, che si terranno il prossimo 12 settembre al Prudential Center di Newark, nel New Jersey, dove si esibiranno come performer e per i quali hanno ricevuto due nomination come "Best Rock" e "Group of the year".