'Italodisco' dei The Kolors è il brano più trasmesso dalle radio italiane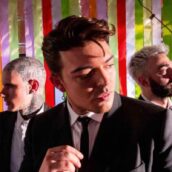 Italodisco è di nuovo il singolo più trasmesso dalle radio italiane. I The Kolors occupano infatti, come due settimane fa, la prima posizione della classifica EarOne.
Medaglia d'argento per Fedez, Articolo 31 e Annalisa con Disco Paradise, che ha finalmente il suo video ufficiale.
Gradino più basso del podio per i Pinguini Tattici Nucleari con Rubami la notte.
Posizione numero 4 per Marco Mengoni e Elodie con Pazza musica. Stabile alla 5 Dua Lipa con Dance the night. Seguono Post Malone con Chemical, Irama e Rkomi con Hollywood, Blanco e Mina con Un Briciolo Di Allegria e Ernia con Bresh & Fabri Fibra con Parafulmini. Chiudono questa top ten Achille Lauro e Rose Villain con Fragole.