Jamiroquai: Uscirà a breve "Shake It On", il nuovo singolo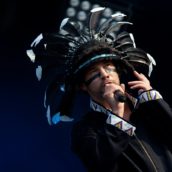 "SHAKE IT ON" è il secondo singolo dei JAMIROQUAI estratto dall'ultimo album"Automaton", l'ottavo disco di studio, pubblicato a distanza di 7 anni dall'ultimo lavoro ("Rock Dust Light Star" del 2010).
"SHAKE IT ON" arriva dopo il successo di "Cloud 9", il singolo che ha segnato il grande ritorno della band capitanata da Jay Key e che ha conquistato la top 10 dei brani più suonati dalle radio italiane per settimane.
Il gruppo soul funk elettronico, vere superstar mondiali e vincitori di un Grammy Award, sono diventati una delle maggiori realtà del mondo fin da disco di debutto "Emergency on Planet Earth". Con uno stuolo di fan famosi come Chance the Rapper, The Black Madonna, Anderson.Paak, Pharrell, Tyler the Creator, Jungle, Redman, Stevie Wonder & The Internet, Jamiroquai hanno costantemente dimostrato a se stessi di essere una delle band più influenti e innovatrici del loro tempo.