Katy Perry: Ascolta "Swish Swish", il nuovo singolo feat. Nicki Minaj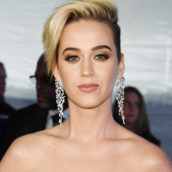 Dopo il successo dei singoli "Chained to the Rhythm" (multiplatino negli USA e in Italia, più di 380 milioni di views su YouTube) e "Bon Appétit" (disco d'oro in Italia e in Francia, oltre 310 milioni di views su YouTube) KATY PERRY torna in radio venerdì 15 settembre con "SWISH SWISH" (feat. Nicki Minaj), terzo singolo estratto dall'album #1 negli USA "Witness", disponibile in streaming e nei negozi dal 9 giugno 2017.
Il video di "Swish Swish" (visibile su https://youtu.be/iGk5fR-t5AU) ha già superato i 192 milioni di views su YouTube, mentre il singolo, insieme ai remix ufficiali realizzati da Cheat Codes, Blonde e Valentino Khan, ha raggiunto quota 117 milioni di stream su Spotify.
KATY PERRY è l'artista che ha venduto di più in digitale nella storia, più di 18 miliardi di stream nel mondo ed la persona più seguita su Twitter nel mondo.
Katy ha fatto il suo debutto con la Capitol Records nel 2008 con "One of The boys" e ha cementato il suo status di Superstar Globale con il disco seguente "Teenage Dream" (2010).
"PRISM", il suo quarto album del 2013, ha debuttato al #1 posto di iTunes in 100 paesi e ha venduto più di 12,5 milioni di copie worldwide. Con i singoli "Firework" e "Dark Horse", che hanno superato la soglia di 10 milioni tra download e stream, KATY è diventata la prima artista donna ad ottenere due RIAA Digital Single Diamond Awards
La Perry ha venduto in tutto più di 125 milioni di tracce nel mondo e 40 milioni di album e ha inoltre cantato davanti a 2 milioni di persone per il suo Prismatic World Tour, 151 date sold out nel mondo ed è stata protagonista dello show del Super Bowl XLIX grazie al quale ha segnato un altro record come artista più vista di sempre durante il Super Bowl.