Katy Perry – Never Worn White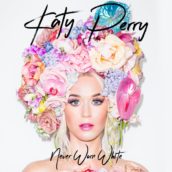 "Never Worn White", il nuovo singolo di Katy Perry è da oggi in airplay su Radio Ufita e su tutte le piattaforme digitali.  La ballata è stata scritta da Katy con Johan Carlsson, John Ryan, Jacob Kasher Hindlin e prodotta da Carlsson. Il brano è accompagnato dal video diretto dal duo di registi parigini J.A.C.K. (Madonna, Christine and the Queens).
Dal debutto nel 2008 con "One of the Boys", Katy Perry ha accumulato un totale di 35 miliardi di stream, vendite mondiali per oltre 45 milioni di album (digitale + fisico) e 135 milioni di tracce con i suoi album "One of the Boys", "Teenage Dream", "PRISM", "Witness", e i suoi ultimi singoli "Never Really Over", "Small Talk" e "Harleys In Hawaii".
Katy Perry è stata la prima artista donna ad avere quattro video che hanno superato il miliardo di visualizzazioni ciascuno. Il video "Roar" del 2013 ha recentemente superato i tre miliardi di visualizzazioni
Oltre ad essere una delle artiste musicali più vendute di tutti i tempi, Katy è un'attiva sostenitrice di molte cause filantropiche. Nel 2013 è stata nominata Goodwill Ambassador dell'UNICEF per il suo impegno nel migliorare la vita dei bambini in tutto il mondo. Katy ha usato la sua potente voce per difendere i bambini e sostenere la missione dell'UNICEF per garantire il diritto di ogni bambino alla salute, all'istruzione, all'uguaglianza e alla protezione. Nel 2016 ha ricevuto l'Audrey Hepburn Humanitarian Award.