Kygo – Happy Now (feat. Sandro Cavazza)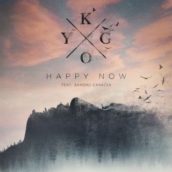 Il produttore e dj norvegese dei record che all'anagrafe risponde al nome di Kyrre Gørvell-Dahll, pubblica oggi in digitale il suo nuovo singolo "Happy Now" feat. Sandro Cavazza che sarà dal 2 novembre in radio.
Il brano arriva dopo il successo di "Born To Be Yours" feat. Imagine Dragons: in pochi mesi ha superato i 179 milioni di stream su Spotify e i 36 milioni, scalando le classifiche digitali e radiofoniche internazionali
Ancora una volta il produttore, autore, multi-strumentista, dj norvegese riesce a produrre un inno dall'incontenibile energia da dancefloor, con un groove tropical house che diventa pop e in genere uno spirito che va ben al di là dei generi. L'ipnotico ritornello "I hope you'll be happy now", sul quale è impossibie rimanere fermi, conferma ancora una volta la proverbiale capacità di Kygo di creare delle hit clamorose.
Contribuisce a tutto ciò Sandro Cavazza, artista svedese che con la sua performance vocale arricchisce la produzione e l'arrangiamento magistrali di Kygo.
L'album "Kids In Love" di Kygo è uscito un anno fa. All'inizio di quest'anno Kygo aveva pubblicato "Remind Me To Forget" featuring Miguel che ha superato i 228 milioni di streaming su Spotify, 46 milioni di views su youTube/VEVO e lo ha presentato al The Tonight Show Starring Jimmy Fallon.
Dopo una serie di show sold out in giro per il mondo, Kygo si è ritirato in studio e ha diligentemente continuato a espandere la sua palette di suoni di riferimento come si evince da questa sua ultima produzione.