Lady Gaga e Tony Bennett insieme per due concerti speciali ad agosto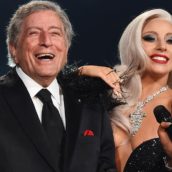 Lady Gaga e Tony Bennett torneranno ad esibirsi insieme sul palco per due eventi molto speciali. Dopo l'album "Cheek to Cheek", uscito nel 2014, le due leggende della musica celebrano la loro grande amicizia in concomitanza con il compleanno del crooner, che compie 95 anni.
Le star si esibiranno nello show "One Last Time: An Evening with Tony Bennett & Lady Gaga" al Radio City Music Hall di New York: la prima serata è prevista per il 3 agosto, compleanno di Bennett, mentre la seconda serata è prevista per il 5 agosto.
Per ora sono gli unici appuntamenti fissati dal duo di artisti americani, che stanno lavorando a un secondo album di collaborazioni, previsto entro fine anno. Per poter partecipare al concerto sarà necessario aver completato il ciclo di vaccinazione contro il Covid-19. Gli organizzatori specificano però che non saranno ammessi telefoni cellulari in sala durante gli spettacoli, come altri dispositivi che possano registrare audio e video.