Lady Gaga: venerdì 3 settembre arriva "Dawn Of Chromatica"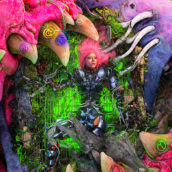 Lady Gaga ha annunciato l'uscita di "Dawn Of Chromatica", il remix dell'album "Chromatica" uscito lo scorso anno, che sarà disponibile da venerdì 3 settembre. Dopo aver annunciato l'uscita del disco "Love for Sale", in collaborazione con Tony Bennett, l'artista ha rivelato la copertina del nuovo progetto musicale sui suoi canali social, oltre alla lista di artisti che hanno collaborato con lei per il remix di "Chromatica".
Per "Dawn Of Chromatica", Lady Gaga è stata affiancata da artisti del calibro di LSDXOXO, Coucou Chloe, Arca, Rina Sawayama, Clarence Clarity, Pablo Vittar, Charli XCX, A. G. Cook, Ashnikko, Shygirl, Mura Masa, Doss, Dorian Electra, Chester Lockhart, Mood Killer, Lil Texas, Planningtorock, Breee Runway e Jimmy Edgar.
Ecco la tracklist completa:
01. Alice (LSDXOXO Remix)
02. Stupid Love (COUCOU CHLOE Remix)
03. Rain on Me (With Ariana Grande) (Arca Remix)
04. Free Woman (Rina Sawayama & Clarence Clarity Remix)
05. Fun Tonight (Pabllo Vittar Remix)
06. 911 (Charli XCX & A. G. Cook Remix)
07. Plastic Doll (Ashnikko Remix)
08. Sour Candy (With BLACKPINK) (Shygirl & Mura Masa Remix)
09. Enigma (Doss Remix)
10. Replay (Dorian Electra Remix)
11. Sine From Above (with Elton John) (Chester Lockhart, Mood Killer & Lil Texas Remix)
12. 1000 Doves (Planningtorock Remix)
13. Babylon (Bree Runway & Jimmy Edgar Remix)
14. Babylon (Haus Labs Version)