Lana Del Rey: Ascolta "Groupie Love", il nuovo singolo feat. A$AP Rocky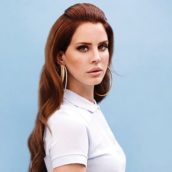 Nel disco collaborazioni con The Weeknd, Stevie Nicks, Sean Ono Lennon ed altri…
Sarà nelle radio italiane da venerdì 28 luglio il nuovo singolo di Lana Del Rey in collaborazione con A$AP Rocky, "Groupie Love" che accompagna l'uscita dell'album "Lust For Life", disponibile nei negozi tradizionali e in digitale da venerdì 21 luglio.
Dell'album, pubblicato su etichetta INTERSCOPE/POLYDOR UK, Lana Del Rey ha dichiarato: "ho fatto I miei primi 4 dischi per me, ma questo è per i miei fan".
L'album, prodotto da Lana insieme al suo collaboratore storico Rick Nowels, contiene il singolo "LUST FOR LIFE" (oltre 6 milioni di views in meno di 24 ore e oggi ad oltre 26 milioni di visualizzazioni https://youtu.be/35cTIXoBnuw) che vede la collaborazione di THE WEEKND, uno degli artisti più importanti a livello internazionale di questi ultimi anni.
Oltre alla title track, nel disco troviamo anche il singolo "LOVE" (70 milioni di views per https://youtu.be/3-NTv0CdFCk) prodotto da Benny Blanco e Emile Haynie.
Per questo album LANA ha chiamato a collaborare il meglio della nuova scena musicale internazionale che vede oltre a The Weeknd artisti come il rapper di Atlanta Playboi Carti, il rapper, cantante, modello e produttore discografico di New York A$AP Rocky e la cantante americana Stevie Nicks. Altro gradito ospite nel brano "Tomorrow never came" è Sean Ono Lennon.
Prima di "Lust For Life", Lana Del Rey ha collezionato una serie di grandi success tra cui Born To Die (154 milioni di streams e disco di platino in Italia), Video Games (185 milioni di streams e disco d'oro), Young and Beautiful (235 milioni di streams e disco di platino) e tanti altri.