Lana Del Rey: Ascolta "You Must Love Me", il nuovo singolo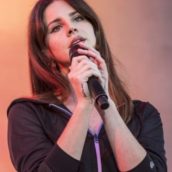 Tratto da "ANDREW LLOYD WEBBER: UNMASKED – THE PLATINUM COLLECTION", il greatest hits definitivo con le indimenticabili canzoni tratte da Cats, Evita, Jesus Christ Superstar, Il Fantasma Dell'Opera, School of Rock, cantate da artisti del calibro di Beyoncé, Madonna, Lana Del Rey, Barbra Streisand, Gregory Porter, Nicole Scherzinger, Sarah Brightman e molti altri!
Il 22 marzo di quest'anno il più grande compositore di musical compie 70 anni ed il 16 marzo uscirà "ANDREW LLOYD WEBBER: THE PLATINUM COLLECTION", una compilation multiformato (2CD e 4CD) curata personalmente da Lloyd Webber che raccoglie brani memorabili di una carriera di quasi 50 anni, da Joseph and the Amazing Technicolor Dreamcoat del 1968 fino al più recente School of Rock.
Questa versione di "You Must Love Me" (da "Evita", cantata originariamente da Madonna) è un'inedita interpretazione di Lana Del Rey.