Lana Del Rey: E' uscito "Lust for Life", il nuovo singolo feat. The Weeknd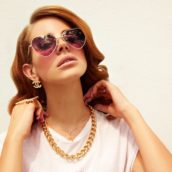 Dopo "LOVE", LANA DEL REY annuncia l'uscita di "LUST FOR LIFE", non solo un nuovo brano inedito ma una collaborazione davvero straordinaria.
In "LUST FOR LIFE" accanto a LANA DEL REY infatti troviamo THE WEEKND, uno degli artisti più importanti a livello internazionale di questi ultimi anni.
"LOVE" e "LUST FOR LIFE" saranno contenuti nel nuovo album di LANA DEL REY in uscita entro la fine dell'anno che si intitolerà "LUST FOR LIFE".
L'album vede accanto a Lana il suo produttore e collaboratore da molti anni Rick Nowels.
Del disco Lana Del Rey ha detto: "ho fatto I miei primi 4 dischi per me, ma questo è per i miei fan".