Lana del Rey posticipa l'uscita del nuovo album. Annuncio in…topless!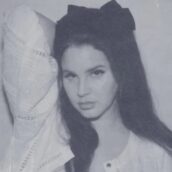 Lana Del Rey posticipa al 24 marzo l'uscita del suo nuovo album "Did You Know That There's a Tunnel Under Ocean Blvd", già anticipato dal singolo che dà il titolo al disco, senza peraltro spiegarne le ragioni.
L'artista ha dato l'annuncio in in topless, sfidando la censura Instagram, e pubblicando una copertina alternativa del suo nuovo lavoro.
Questa è la tracklist del disco:
1 The Grants
2 Did You Know That There's A Tunnel Under Ocean Blvd
3 Sweet
4 AW
5 Judah Smith Interlude
6 Candy Necklace
7 Jon Batiste Interlude
8 Kintsugi
9 Fingertips
10 Paris, Texas
11 Grandfather Please Stand On The Shoulders Of My Father While He's Deep-Sea Fishing
12 Let The Light In (feat. Father John Misty)
13 Margaret (feat. Bleachers)
14 Fishtail
15 Peppers (feat. Tommy Genesis)
16 Taco Truck x VB
Ultimamente Courtney Love, vedova di Kurt Cobain, ha accostato il nome di Lana Del Rey a quello del suo defunto marito, definendo anche lei un "genio della musica".