LAURA PAUSINI: DOPPIA NOMINATION AI LATIN GRAMMY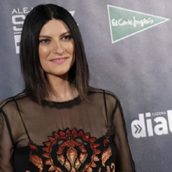 Laura Pausini ha ottenuto una doppia nomination ai Latin Grammy Awards 2018 per "Fatti sentire", il suo ultimo album di inediti.
Laura ha ottenuto la nomination per "Best Traditional Pop Vocal Album" e "Producer of the Year", per il lavoro svolto dal produttore Julio Reyes Copello.
La Pausini ha condiviso la felicità per la doppia nomination con i suoi fan attraverso un post su Facebook, togliendosi anche qualche sassolino dalla scarpa.
"Non posso fare a meno di dedicare le mie due nomination al Latin Grammys di quest'anno a chi non crede in me, a chi continua a darmi contro, a chi riesce a inventarsi frasi e cattiverie senza rendersi conto che indubbiamente, nel mio genere musicale, ho fatto un disco della madonna e che è grazie a questo e grazie agli autori, ai produttori e ai collaboratori che ho scelto al mio fianco, se stiamo facendo un tour pieno di Sold Out a 44 anni, dopo 25 anni di carriera!!!" ha scritto Laura Pausini su Facebook.
Laura ha poi concluso: "Non ci credevo stavolta! Grazie veramente all'Accademia. Non ho parole. L'Italia ringrazia con me".
La serata dei Latin Grammy Awards è in programma il 15 novembre alla MGM Grand Garden Arena di Las Vegas, negli Stati Uniti.
Faremo tutti il tifo per Laura Pausini.